Rest in Peace

Michael Hauben
May 1st 1973 - June 27th 2001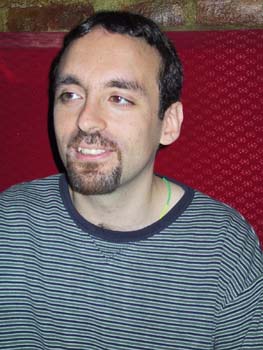 The funeral service was on Friday, June 29th 2001 at The Riverside Memorial Chapel.
There was a memorial planned for September 30, 2001. It was cancelled by the hall because of the events of September 11.
---
A Netizen
The Original Netizen
by Ronda Hauben
Michael Hauben, Netizen
A Tribute in The Register
by Andrew Orlowski
Death of a Netizen
A Tribute in Telepolis: A German Magazine of Netculture
by John Horvath

The Netizens Cyberstop
Michael's Homepage
Netizens: On the History and Impact of Usenet and the Internet
An Online Version of the book by Michael and Ronda Hauben
Los Alamitos, CA: IEEE Computer Society Press, 1997.
Call for a Netizens Association
The Original Message from Michael on March 4, 1996

A Memory of Michael Hauben, The Inventor of NETIZEN
Mieko and Kenichi Nagano; Oita Japan

In Memory of Michael Hauben: Discoverer of Netizens
Amateur Computerist Vol 11 no 1

The Net and Netizens: The Impact the Net has on People's Lives
On Its Ten Year Anniversary - July 6, 2003
Pier Luigi Capucci, Noema director


---
A Friend
WHY IS IT PAINFUL TO FEEL?
LOGIN WITH USERNAME
by Gavin Heck
Quintessential Individualist
by Min-Yen Kan
Exchange with the Haubens, May 1998
Photographers: Meiko and Ken Nagano
---
A Music Connoisseur
Electronic Music Pioneer
by R. Luke DuBois
A Netraver
by James E. Devlin
---
Photo Gallery
Michael's Birthday Party, May 2001
Photographer: Yvonne Liu
Earth Celebrations Winter Pageant
Photographers: Gavin Heck and Yvonne Liu
Morocco 2001
Photographers: Thessy Mehrain and Yvonne Liu
Santacon 2000
Photographer: Michael Hauben
Coney Island Mermaid Parade 2000
Photographer: Yvonne Liu
Miscellaneous Music Parties
Photographers: Steph, Steve F., and Bob Baxter.
If you have photos of Michael that you would like to share, please email the webmaster.
---
Page modified May 29, 2008
webmaster